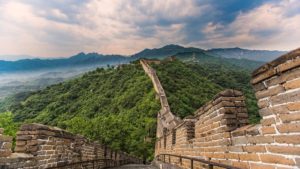 Our parents often ask about learning outcomes: how much will my child be able to understand, speak, communicate, read and engage with the Chinese speaking world? Recently one of our students went on a family trip to China and her mother kindly agreed to share her observations with our Chinese for Families community.
         "Our daughter has been learning Chinese for nearly 8 years now with "Chinese for Families" and our family    recently travelled to China for a holiday. It was a wonderful trip and gave us all the opportunity to experience       the food, language and culture while visiting some amazing places.
         During our travels we had no particular expectations of our daughter's level of Chinese language – she has learnt a lot during her lessons but we knew she would not have the confidence or vocabulary required to hold a fluent conversation. However despite this, we were pleasantly surprised to discover how much she actually could understand while we were travelling.
        She was able to recognise various characters on signs and menus, and she could listen and understand some spoken words and phrases. At times she could assist us communicating with staff in shops and restaurants – even if only by speaking some words here and there – and even though none of this involved a full sentence or conversation it was extremely useful.
        It made us realise there are many stages in learning a language before reaching the highest level of fluent conversation – and all of these stages can help in communicating. As a family we felt very thankful for the weekly classes at Chinese for Families and the opportunity it has given our daughter to broaden her language skills. Thank you Belinda!"
I like to think that in our one lesson a week program we take children a significant way along the path of genuine language acquisition. When they finish with us, they still have some way to go but they've gone far enough to see the peak and to know that they can there. They have a solid foundation in and engagement with the spoken and written language. They 'get' Chinese and they are ready to race ahead on their journey to the mountain top!
https://www.jialezhongwen.com.au/wp-content/uploads/2017/11/jiale-zhongwen-learn-chinese.png
0
0
Belinda Dello-Iacovo
https://www.jialezhongwen.com.au/wp-content/uploads/2017/11/jiale-zhongwen-learn-chinese.png
Belinda Dello-Iacovo
2017-12-11 11:39:35
2017-12-11 11:39:35
Building a language foundation – your child's journey in learning Chinese